Beautiful, impressive, large, shaggy, loving, smart, energetic, faithful, and protective. These are just a few of the qualities of the Briard. Known in their home country, France, as Chien Berger de Brie (shepherd dog from Brie), Briards are called "Hearts Wrapped in Fur." They love their people  and are never far from you. It is so-o-o easy to love a Briard! They make the time spent raising and loving them so worthwhile. From Briard puppies to Briard adults, they are great dogs in the right home.
Briards are herding dogs. It is their natural instinct to herd that helps form their personality and character. Briards are bred to know where they belong, to be where they belong, to care for their flock and to protect their "flock". That flock can be sheep, people, and even other dogs. And the Briard version of caring can take many forms, some good, some challenging.
My name is Jeanne Lorang, and I am Lebec Briards. I have owned and loved this breed since 1981. In fact, I'm nuts about them! Please enjoy this website, my Briards, my friends' Briards, and all things Briard. I can be reached by email, or at 661-618-8798.
Briard puppies to Briard champions
Looking for a Briard Breeder?
If you are looking for a Briard puppy, you will probably be talking to several breeders. You should be! And if a breeder spends that time telling you about their dogs, about the Briard in general, asking questions to help you determine if a Briard is right for you, and if the puppies they have available are a good match for your home, CONGRATULATIONS! You have found a breeder to continue to have a conversation with. There are many such Briard breeders in the U.S. The links page on this site is a good place to start your search, or broaden it. Of course, we'd love it if you started with us.
Be aware of breeders who try to discredit other breeders, instead of focusing on their own breeding programs. Make your own open minded inquiries with as many breeders as you can, and then make your decision regarding the right breeder with the right dog for you.
In Memoriam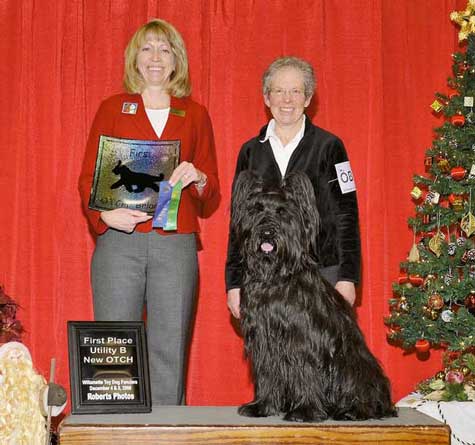 "Page"
OTCH CH. Briardale's One For the Books de Lebec

12-10-98 to 5-12-14

Years ago, I asked Carol Wolfram to make a very special piece of glass. It was based on hope and faith, and said "First OTCH Briard". My friend Laurie Beck and her girl Page, daughter of my Sassy and Shaka, were working very hard to earn that title. And they did it! Page truly became "One For The Books", the first Briard to earn the Obedience Trial Champion title. Laurie and Page were a true team, learning together, loving each other, sharing so much together, the good, the bad, and the marvelous.

Page was Laurie's heart dog, and they had over 15 years together. Her loss is heartbreaking, but her life was magnificent! Rest in peace, Page, and may heaven be filled with Kongs, and arms to throw them. And jars of baby food, as much as you want, whenever you want.