Puppies are here!
Wilma had six beautiful black Briard pups on Nov. 9th, 2015. And you can watch them 24/7 on our webcam. More info...

Beautiful, impressive, large, shaggy, loving, smart, energetic, faithful, and protective - words that describe a Briard. Briards are truly "Hearts Wrapped in Fur", always near their people. From Briard puppies to Briard adults, they are great dogs in the right home. Are you that right home?
Briards are herding dogs. It is their natural instinct to herd that helps form their personality and character. Briards are bred to know where they belong, and to be where they belong. Their job is to care for and protect their "flock", be it sheep, people, and even other dogs. The Briard version of caring can take many forms, some good, some challenging.
My name is Jeanne Lorang, and I am Lebec Briards. I have owned and loved this breed since 1981. Please enjoy this website, my Briards, my friends' Briards, and all things Briard. I can be reached by email, or at 661-618-8798.
Briard Puppies to Briard Champions
IN MEMORIAM
"Belle" Ch. Cherron U Wanna Dance UD
12 years ago, an emergency call from a friend, I think my girl is having puppies! Run around like mad and collect equipment, drive an hour, find a scared owner with a bloody bedspread and a brand new puppy. No idea she was pregnant by her Briard housemate, no clue about whelping and rearing puppies, and recent back surgery. A husband who doesn't know where the washing machine is, and a 12 month old bitch that wasn't socialized, and doesn't like strangers. Not a great beginning in life.
I whelped three more puppies on the floor, late night trip to the vet, packed up the bitch and the pups, and came home. Left the car running while I very quickly assembled a whelping box, locked all my Briards out of the way, and brought in a very scared Mom and four pups, 2 boys and 2 girls. Luckily, she was a great Mom, and those pups kept her sane. It was rough, though, dealing with a girl who didn't know or like me, while trying to do right by her and the pups. And she was just a puppy herself!
One of those girls became very, very special to me. Belle went home with a friend, came back to me when conflicts arose, spent some time out of state, then went back to her original owner when she made it clear she wasn't thrilled to be living with a group of other dogs. Belle was gorgeous, fun, loving, smart - everything you want in a family member. She gave me three great litters, and three of the girls in my house are down from her. I loved that girl, almost as much as I loved her great grandmother Sassy. I didn't get to see her much later in her life, a regret I will always have. She was in a great home, loved and cared for, and had a full and happy life. But I would have liked to pet Belle one more time, rub her belly, talk to her.
Thank you for being in my life, and thank you for your sons and daughters, and your three great great granddaughters who make my life better every day. Rest in peace, and wait by the Rainbow bridge so I can see you again, before you run off with your real humans. Just one last time, let me say hello. Goodbye hurts so much.
Show More...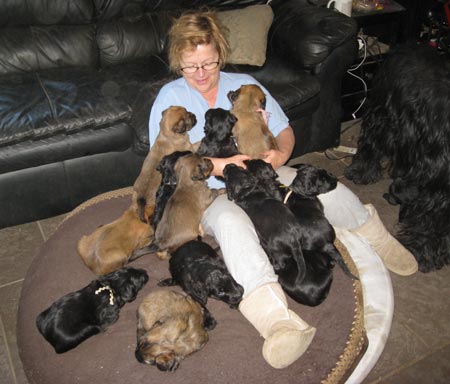 Looking for a Briard puppy?
Yes, we sell Briard puppies and we brag about our Briards' accomplishments in the show ring and at performance events.
However, what we really want to do is help you learn about the Briard, especially if you are new to the breed.
We want to be sure any home lucky enough to own a Briard knows it is the right breed for them BEFORE a puppy arrives - wherever that puppy comes from.
Please take the time to browse the site, and learn if the Briard is right for you. If you have any questions or suggestions, please contact us -
by email (Lebec@Briard.com)
or by phone (661) 618-8798.
We also love to talk about Briards in general. So feel free to call us. It's always a pleasure to talk about our breed!
Show More...
Looking for a Briard Breeder?
If you are looking for a Briard puppy, you will probably be talking to several breeders. You should be! And if a breeder spends that time telling you about their dogs, about the Briard in general, asking questions to help you determine if a Briard is right for you, and if the puppies they have available are a good match for your home, CONGRATULATIONS!
You have found a breeder to continue to have a conversation with. There are many such Briard breeders in the U.S. The links page on this site is a good place to start your search, or broaden it. Of course, we'd love it if you started with us.
Be aware of breeders who try to discredit other breeders, instead of focusing on their own breeding programs. Make your own open minded inquiries with as many breeders as you can, and then make your decision regarding the right breeder with the right dog for you.
Show More...
Your right to own the dog of your choice is under attack - find out more