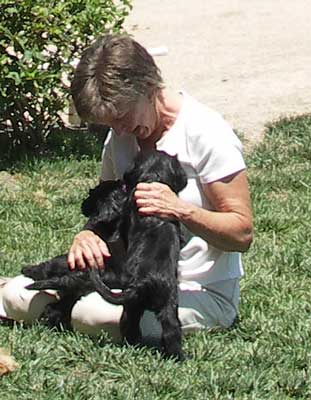 Socialization

The most important thing you can do for your Briard – socialize, socialize, socialize! Socialization means exposing your dog to many different situations, until they are willing and able to cope with new things easily.
Failure to socialize a puppy can allow their natural reserve to become fear, and fear can become neurosis or aggression. Exposure to as much as possible during the first year, including training classes, pays off for many more years. They must be comfortable visiting friends, going out to parks and stores, riding in a vehicle, attending classes, walking down the sidewalk, playing at the beach, etc. It is impossible to over stress this point. Do not put off socialization, thinking you can do it later. Later is TOO LATE!
The breeder should have started socializing the pups as young as three weeks of age. Ask what activities and people they have been exposed to when you are looking at a litter.
Socialization has to be done both inside and outside of your home. Your Briard will have different reactions in a new place, or on it's home turf. Have people over. Then have them walk your puppy around the block without you! Go to the local mall, the softball game, friend's homes. While there, have others take the puppy and play with it.
Picture every situation you want your pup to experience as an adult, and go there as a pup.
Next: Grooming