Is the Briard right for you?

This page is all about that question.
Briards at home
Share and share alike.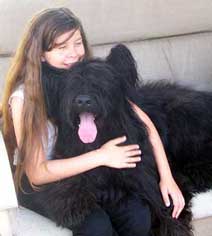 Lap dogs!
Are you physically capable of dealing with a Briard?
Briards are strong, large, exuberant dogs. They can easily knock over a child, and can set an adult on his or her backside. Briards must be trained, and that training, even with a puppy, takes physical strength. Once trained, an adult, settled Briard is a joy to be with.
Can you say "NO" and mean it?
Briards are smart, sometimes manipulative, often dominant, can be stubborn, and are very inventive. An owner who tries to negotiate with a Briard usually loses. You must be able to recognize when NO is appropriate, and be effective in conveying that to the Briard, without using harsh training methods.

Can you be consistent and fair in training?
Briards don't do well with mixed messages. They need reward-based, consistent, on-going training to be successful companions.
Can you live with trails of dripping water, dirt, mud, etc in your house?
When they drink, they drip from that beard. When they go outside, they bring the outside in. We sometimes call them "velcro dogs" because of what can stick to the coat. Clean up is constant, and remember, they won't be happy unless they are in the living areas of your home, with you.
Dirty windows are an identifying feature of many Briard homes - that wet beard can obscure a view very quickly!
Next - Appearance of the Briard